About

noun, adj. meaning "of or belonging to the World Wide Web"
Mission
"Develop an operating system dedicated to hosting and using web applications built on the principles of openness and ease of use, utilising open web standards and open source software."
Vision
Imagine a world where you can access your information anywhere from any device and any app will run on any platform.
Imagine a web server in every home and every organisation, forming part of a ubiquitous and distributed World Wide Web of applications and data.
Imagine having complete control over your own private information, sharing only what you choose, with whom you chose, and doing so with a self-expressed identity or anonymity.
This vision of a single, open, ubiquitous and de-centralised web is what drives the Webian project.
Principles
Webian software should be related to World Wide Web
Webian software shall always both free as in price and free as in freedom
Webian software should always promote open web standards over proprietary technology
Current Projects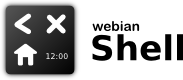 A full screen web browser for devices that don't need a desktop.

Capture, organise, view and share your photos.
The Webian project is a not-for-profit venture founded by Ben Francis. Ben is a full time software engineer at a startup in Cambridge (England).